Remote hearings in the Supreme Court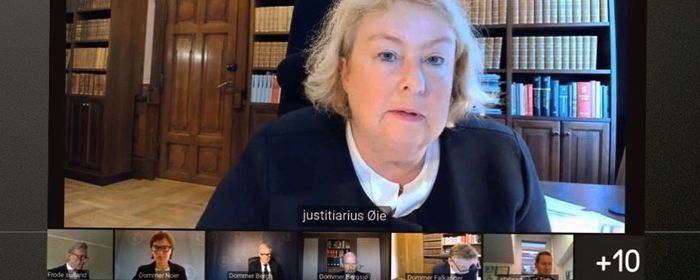 On Friday 17 April 2020, the Supreme Court held its first-ever remote appeal hearing in a case concerning the sentence for insurance fraud. The hearing was conducted as it would have been conducted in the courtroom, but without the use of robes. The Chief Justice has decided that robes are not to be used in remote hearings.
To reduce the spread of the Covid-19 virus, oral hearings in the Supreme Court have been put on hold since Friday 13 March. The activities of the Supreme Court's Appeals Selection Committee have continued during this whole time.
Since the courts now have extended access to hear both civil and criminal cases through video conferencing, and also been permitted to hear criminal cases by written procedure, the Supreme Court of Norway is practically back in full operation.
The hearings are open to the public and the press as if they were held at the Supreme Court Building. However, the virtual conference rooms have limited capacity, which means that only 15 seats are available to the public and the press. Remote hearings are to be conducted with the same order and respect as ordinary courtroom hearings. In criminal cases, photography and recording are prohibited without special permission. This also includes screenshots and further streaming.